VICTORY THROUGH ADVERSITY
The adversity of the cross became the greatest victory of all time!
And being found in fashion as a man, he humbled himself, and became obedient unto death, even the death of the cross. (Php. 2:8)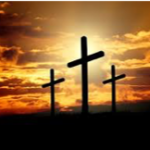 Ought not Christ to have suffered these things, and to enter into his glory? (Lk. 24:26)
If ye then be risen with Christ, seek those things which are above, where Christ sitteth on the right hand of God. (Col. 3:1)
But thanks be to God, which giveth us the victory through our Lord Jesus Christ. Therefore, my beloved brethren, be ye steadfast, unmoveable, always abounding in the work of the Lord, forasmuch as ye know that your labour is not in vain in the Lord. (I Cor. 15:57-58)
Thank you for your prayers during our ministry throughout the Eastern Maritime Provinces of Canada last month. Adversity produced victory as we experienced several difficulties before we even reached Canadian soil. Traffic through New England was extremely heavy and delayed us by several hours. Then we got stuck in the mud in Maine, and Customs at the Canadian border detained us.
We guess Satan really didn't want us to make it on this trip. However, the victory was through adversity… The heavy traffic slowed us down to keep us safe and arrive in exactly God's time. Getting stuck in the mud allowed us to meet a missionary work team going to a church camp to prepare it for the summer. This delay had us arrive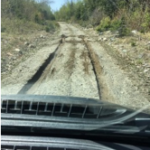 at customs at the exact time of an agent change who detained us for questioning. God had provided one of the largest loads of supplies for Lydia's Grace we've had yet and there was concern that this quantity of donated products could be sold for profit untaxed. (They left us go without any problems).
The victory in this situation was that our first planned stop was a shelter in Halifax where they were more than anxious to take as much product as possible. They have a thrift store and… Just now notified us the shelter would be closed at least until fall for renovations. The adversity we faced was turned into victory through the revelation that donated products would probably be sold for profit. As stewards of the Lord's provision we felt led of Him to leave no provisions at this location.
The Lord granted us opportunity to visit with three different churches and two shelters and encourage the pastors and staff members.
A major victory was at FPC in Corner Brook, Newfoundland. It was the last night of VBS where about sixty, mostly unchurched, children were attending so we were able to provide an adequate supply of children's tracts. They are also hosting a Mom-to-Mom community outreach event the following week so a supply of Lydia's Grace products and women's literature was perfect. God ordained a better destination than Halifax!
Harvest House was another incredible visit, what an amazing ministry! Here they offer various emergency shelters, a recovery center, counseling service, step-up housing, feeding/soup kitchen, vocational training, job placement, and daily bible studies. Harvest House was in desperate need of the feminine hygiene products we were able to provide them with. This is the way the Lord works.
Especially pray for "Vanessa", a lady from Hong Kong we spent extensive time witnessing to. She has some tremendous spiritual hurdles to overcome.
Please pray too as we plan a visit to the New England states of Vermont, New Hampshire, and Maine. Pray for God's guidance and safety.
Visit us at @www.kwoutreach.org.  Our Prayer Letters are now available on-line as well, so please feel free to share them with anyone you think might be interested.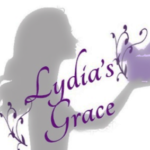 Lydia's Grace Update: We remain in dire need of feminine sanitary napkins and tampons. Please help us in this avenue to share the gospel of Christ to women in need in shelters, safe houses, recovery centers, church camps, pregnancy ministries, and wherever else the Lord opens doors of opportunity.
  Lydia's Grace is an approved subsidiary of Keystone World Outreach that focuses on sharing the love of Jesus to women in need through the distribution of feminine care products.
Thank you very much for your continued support through prayer, product, and financial contributions. Please note that donations can now be made online via PayPal from our website. Just click on the PayPal link. We know that we cannot do any of this without the help of God and His people.
Blessings,